Today is traditionally known as Michaelmas, a pivotal day in the Church year.From of old, this day has marked the beginning autumn and the end of harvest. As the nights grow longer and colder, we call on St. Michael to defeat the powers of darkness.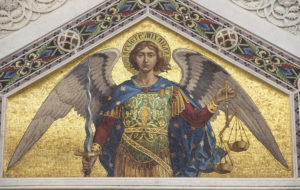 A time for contemplation
Today we also honor together the Archangels Michael, Rafael, and Gabriel.  Pope St. John Paul II remarked that the Archangels each represent different aspects of God. Michael means "Who is like God?"  Gabriel means "The power of God," and Raphael means "God heals."
Angels are mysterious, but we rest in the knowledge that God is glorified through mediators.  He glories in incorporating the fullness of his creation in all his works. Angels were part of the medieval concept of the chain of being, which includes within it an angelic heirarchy.
Angels operate with knowledge beyond the senses, free from passion. Yet somehow, they are sent to serve us, who are at the center of God's redemptive universe.
When someone you respect complements you, it is humbling.  Likewise, we are humbled to think that God sends myriad angels to serve us.  We might ask, "Who are we to receive something so great?"  Even as we marvel, "How gracious is our God to give us such aid!"
A time for celebration
In the British Isles, a fattened goose is eaten on this day. In Scotland, a Struan Michael is eaten–a scone-like cake made from the harvest grain and sheep milk. Here is what is said: "Progeny and prosperity of family, Mystery of Michael, Protection of the Trinity."
However you do it, be sure to celebrate Michaelmas, and invoke with confidence your heavenly aid.