Perhaps you've seen some gifts skip a generation. My mother was an artist, and my children are much more accomplished in art than I. Today was the feast of St. Wenceslaus, who was the grandson of St. Ludmilla. You might say sainthood skipped a generation there.
In our Mass readings throughout this week, we've been hearing how the Second Temple was built after Israel's return from exile. It's a triumphal story on one level, but if we step back, we see that there's something wrong. There is no account of the Shekhina glory of God ever returning to the Second Temple.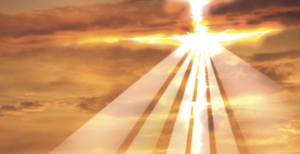 Ezekiel had a vision of water flowing from the new temple, bringing healing far and wide. But instead, the religious practices of Israel turned increasingly inward, and participation of foreigners in the life of Israel was shunned.
All this is reversed when Jesus brought a new presence of God to the earth, and a new Temple was born. The vision of Ezekiel is fulfilled in our Gospel readings this week when Jesus sent out his twelve Apostles to bring healing far and wide.
In light of all this, we could say that the Shekhina glory of God skipped a generation. When it came back, however, the gifts were far greater than before.
These are the gifts that you and I receive as disciples of Christ. St. Wenceslaus represented them well, as he was unafraid to stand for his faith and brought that faith out of hiding, even through it resulted in his martyrdom. The river of God goes forward. May those gifts never skip a generation among us!