Our kindergartner, Sophie, is learning all the important things in life–like how to share and how to handle disappointment without a fuss. But then enter her little sister, a toddler, and a new kind of conflict ensues. 
Sophie and her sister
Our toddler refuses to share her cookie, so Sophie wants her to be held to the same standard that she's received. Easier said than done. As the toddler throws a fit, we explain to Sophie that her sister doesn't have any other words to express feelings, so we just need to move on.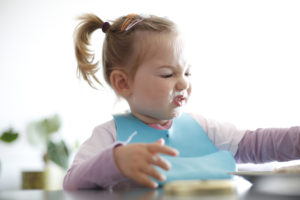 The disciples and the Samaritans
Our Mass readings this week recounted how Jesus was walking to Jerusalem with his disciples, but the Samaritans refused hos
pitality along the way. So the disciples wanted to call down fire from heaven to consume them, recalling Sodom and Gomorrah. But Luke says that Jesus "turned and rebuked" his disciples for this suggestion.
The point is simple. Jesus' message begins with mercy, not judgment. The Samaritans have not yet received the gospel, so they shouldn't be judged for their rejection of Jesus.  
With his disciples, however, Jesus is much more severe. They know Jesus and understand the gracious kingdom he brings. So he tells them, "No one who puts his hand to the plow and looks back is fit for the kingdom of God." If they were to reject Jesus, they would be accountable for what they know. 
We and the unchurched
Likewise, Jesus calls us to meet people where they are. This past week I spoke with a man who told me that his grandson had moved in with his girlfriend. He said that he wanted to clobber the young man. But then I asked him, "Does your grandson even know the gospel or go to church?" The answer was no.   
In a post-Christian culture, most people who offend us don't know the gospel. It doesn't serve the kingdom of God if our first response is to clobber them.
Unlike our toddler, we have words. Let's begin by meeting our neighbors where there are and by sharing the words of eternal life.