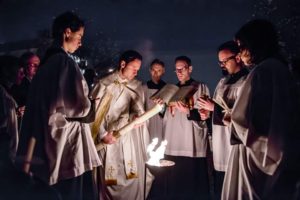 As we begin into the Sacred Triduum tomorrow, we enter into a singular focus on the Passion of our Lord.  The weight of Christ's sufferings is more than we can bear.  But we enter into his suffering, by God's grace, in order to more fully unite ourselves to him.  This increases our longing for the Resurrection feast. 
This Sunday we sang words that encapsulate the Triduum:
Ride on, ride on in majesty!

In lowly pomp ride on to die,

bow Your meek head to mortal pain,

then take, O Christ, Your pow'r and reign.
We're used to saying that our Lord died for us, but now this death takes on intimate familiarity.  We cannot take this for granted.  
Holy Week requires a lot of time and energy, and it should.  Maundy Thursday, Good Friday, the Vigil, and Easter Sunday rehearse the story of our redemption.  Our Lord gave all for us, and in turn, we give all to him.  
A few words about the Vigil from "What Am I Doing for the Triduum This Year?" by Paul Turner. 
"The most important liturgy of the year is the Easter Vigil. No other event has more significance than this celebration.  Make it a priority this year and every year.  The Church needs you.   …  [The Vigil] immerses us in the mystery of Death and Resurrection.  … The Vigil is Resurrection.  …  It will be long.  But that is the point.  We need time to celebrate the mystery of our faith.  Approach the Vigil with hungry anticipation, and you'll wish it would never end."
We continue to fast on Saturday, as much as we're able.  We don't even sample the Easter food until after liturgy that night. But the Saturday fast is different than that of Friday. It's one of anticipation.  
Let's make the most of the Triduum.  Here we enter into Christ's pain in order to enter into his reign.  It's our foundation in faith for the rest of the year.