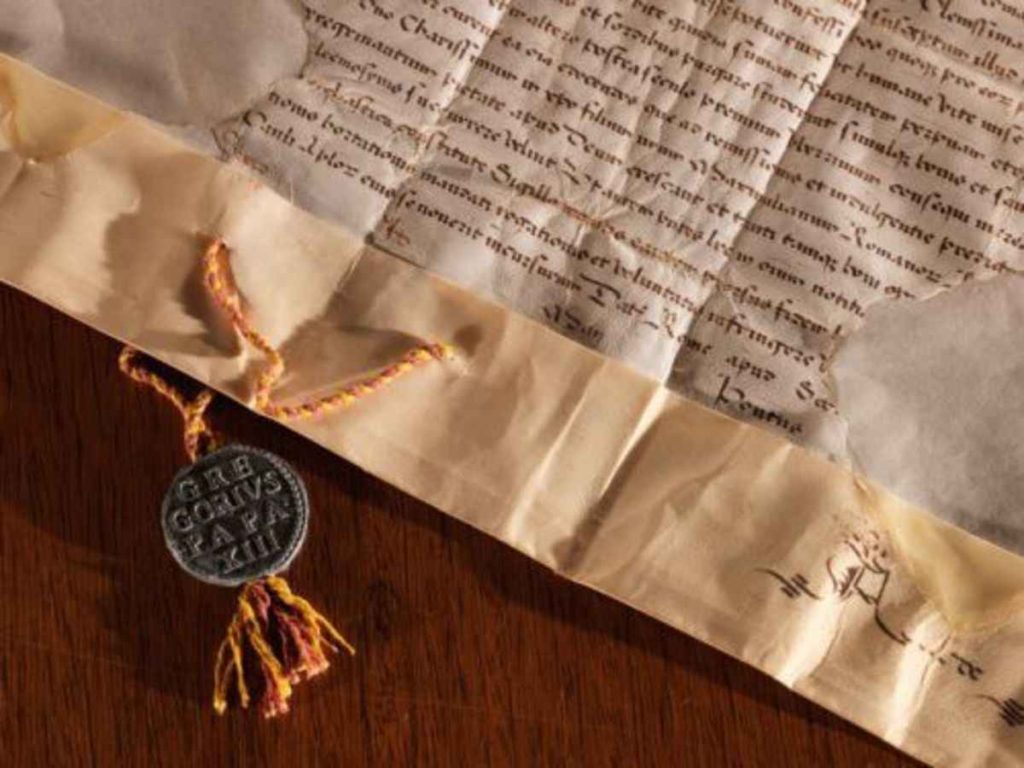 The Holy See has granted a plenary indulgence to all who visit on Ordinariate parish this weekend and say the Te Deum. To most of us, that sounds great … even though indulgences remain somewhat of a mystery. Let's try to understand indulgences a bit more.
Yes, we all want the indulgence
Even for individuals who don't fully understand it, a plenary indulgence tends to generate enthusiasm. Pope St. John Paul II made headlines when he proclaimed a jubilee year in 2000 with a new opportunity for a plenary indulgence. In 2016, I witnessed a constant stream of tourists and pilgrims passing through the Holy Door of St. Peter's Basilica for the Year of Mercy indulgence. If the Church is proclaiming an extraordinary freedom from past sin, then for good reason, the faithful don't want to miss out.
If you missed these indulgences, the Ordinariate indulgence is on the same level. This is a grace granted by the Holy See for the Ordinariate Jubilee — a celebration of 10 years since the founding of the Ordinariate.
But most of us don't really get it
Indulgences generate some suspicion because we've heard of Luther's righteous indignation over the sale of indulgences, which resonates even with Catholics. Rest assured, the Church never taught that indulgences could be sold, though some prelates at that time poorly communicated the purpose of almsgiving.
But the question remains: if sins are forgiven on the cross, then why would we need indulgences? After all, we already have confession for the assurance that mortal sins are forgiven.
Let's begin with a simple clarification: the cross gives us salvation by freeing us from the eternal consequences of sin; however, even after sins have been forgiven, there remain temporal consequences for sin. Indulgences are for the remission of these temporal consequences. For a Scriptural parallel, note that the prophet Nathan told the repentant David that he was forgiven for his sin, but there would still be strife in his house because of his transgression (see 2 Sam 12). You might say David needed a spiritual indulgence.
An analogy
Imagine a manager who made a foolish mistake that cost his corporation over a million dollars. He could be fired, but the CEO decided to cover the cost and save his job, "because I've invested over a million dollars in him — as his 'training,' so to speak." This is analogous to Jesus paying on the cross what we could never pay back ourselves in order to save us.
So the manager is completely forgiven by the CEO. However, that doesn't mean that the manager won't face any consequences for his mistake. Naturally, the CEO isn't going to promote the manager immediately–at least not until the manager shows that he's learned to manage more effectively.
This is how sin is for us. We are completely and eternally forgiven through the cross, but there are still temporal consequences for sin that stay with one's soul. This leads us to the point of indulgences.
Back to the manger. So the manager knows that he'll have to wait two years before he gets another review for a promotion. Rather than wait it out, he reads books about his industry, he finds an industry mentor, and he travels to tour the facility of an important business partner. The CEO sees all this progress and gives him a promotion earlier than expected.
Indulgences work this way. Likewise, the Church has specified many ways in which we can gain remission from the temporal consequences of sin by reading Scripture, prayer, pilgrimages, etc. Why? It's not magic–these things are clearly good for one's soul.
Now, an explanation of a PLENARY INDULGENCE … and how to receive it
A plenary indulgence means a full indulgence. That means it grants the remission for all the temporal consequences of sin.
Sometimes the Church announces special ways to obtain plenary indulgences that aren't always offered – such as the Ordinariate Jubilee. As the holder of the keys of St. Peter, the Church has the prerogative to be generous in this way. It's like a generous CEO who announces that for the month of May, anyone who lands a new national account for the company will receive a promotion. Despite his recent error, the manager in our example above can take advantage of this offer in May and move forward faster.
There are always five conditions that must be in place for a plenary indulgence to take effect.
1) Make a valid confession. This makes sense in order to ensure that we're free from any past mortal sin. The confession is supposed to take place close to the time an individual seeks the plenary indulgence, and JPII specified that this means 21 days before or after the indulgence is sought.
2) Receive Holy Communion in a state of grace. Since the Eucharist is the source of summit of the Christian life, this is a natural condition for a plenary indulgence.
3) Satisfy the conditions necessary for the specified indulgence. In our case, it means "visit an Ordinariate parish on November 3rd, 2019 and say (or sing) the Te Deum." Other means specified for a plenary indulgence include "piously reading Scripture for at least a half an hour," and a "pious exercise of the stations of the cross."
4) Pray for the "intentions" of the Holy Father. These are specific, publicly announced intentions (i.e. "For the Church in China.") that typically change each month. The point of this is simply to ensure that we're connected to the Universal Church. For this, one Our Father and one Hail Mary for the intentions of the Holy Father would suffice.
5) Be free from any attachment to sin, including venial sin. An attachment to sin would simply mean that there's sin in your life that you have no intention of trying to stop. This may be the most difficult condition, yet perhaps it's the most important.
Again, this isn't magic, as all these conditions are clearly good for the soul, and Church teaching specifies that indulgences must be accompanied by repentance, faith, a sincere conversion, and unity with God. In this context, God can use his Church — which is his means for giving sacramental grace — to specify means for the remission of the temporal consequences of sin.
This is analogous to the jubilee year in the Old Testament, when all debts among God's people were to be cancelled. Despite the Mosaic commandment to celebrate the jubilee every 50 years, there's no evidence that the people of Israel ever celebrated it. But God surpasses man in generosity; Jesus is our jubilee.
In Christ,
Fr. Scharbach