I was thinking about how to encapsulate our new spiritual focus in Eastertide, and what kept coming to mind is nothing much has changed.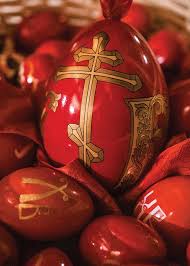 Yes, some things have changed. We're taking time to feast and relaxing Lenten disciplines. When we die to certain privileges during Lent and get them back in Easter, it feels like a resurrection, and this helps us appreciate a deeper spiritual reality.
But the readings in the Daily Office are from 1 Peter, where Peter gives thanks for the resurrection while telling his readers to embrace "fiery trials." In our Mass readings from Acts, Peter stands up to preach in the face of persecution. The imperative, just like in Lent, is that we take up the cross for the faith.
The only difference is that our availability for spiritual martyrdom has a resurrection focus. Having witnessed the resurrected Lord, we can take up the cross with joyful assurance of victory.
We can't ever separate the cross from the resurrection nor the resurrection from the cross. We give more emphasis on the cross during Lent, but no one can carry the cross without resurrection power, and a resurrection focus motivates us to carry the cross anew. The intense focus of each season helps us live out our faith throughout the year, enabling us to move forward the way one foot follows the other.
May the Easter feast bring our Lenten fast to fruition so that St. Paul's words ring true:
For if we have been united with him in a death like his, we shall certainly be united with him in a resurrection like his. (Romans 6:5)
In Christ,
Fr. Scharbach
Sunday Mass live stream link is here.
Divine Mercy Sunday gives perspective to the resurrection confession of St. Thomas.
If you haven't already been praying the Chaplet of Divine Mercy, now is a good time to begin doing so in preparation for Sunday.
The bulletin link is in the Youtube video notes, but you can access it now right here.
The Easter message from our Sunday morning Mass is available here.