It has been long since I have heard the voice of Jesus. Today I was overwhelmed with stress and my seemingly endless responsibilities. I talked to my mom on the phone and she told me to rest in God's providence. However, it was not so much resting on God's providence as hearing her cheerful voice that gave me rest.
… I regained new resolve and what I needed to do didn't seem so bad. Afterward, I sort of thought, "Oh and I'll pray before I go to bed." Then I realized that I had waited until I felt like I had things under control before I turned to God. Then the words cut through my mind: "I want you to come to me when you are weak."
Prayer Journal, April 28, 2019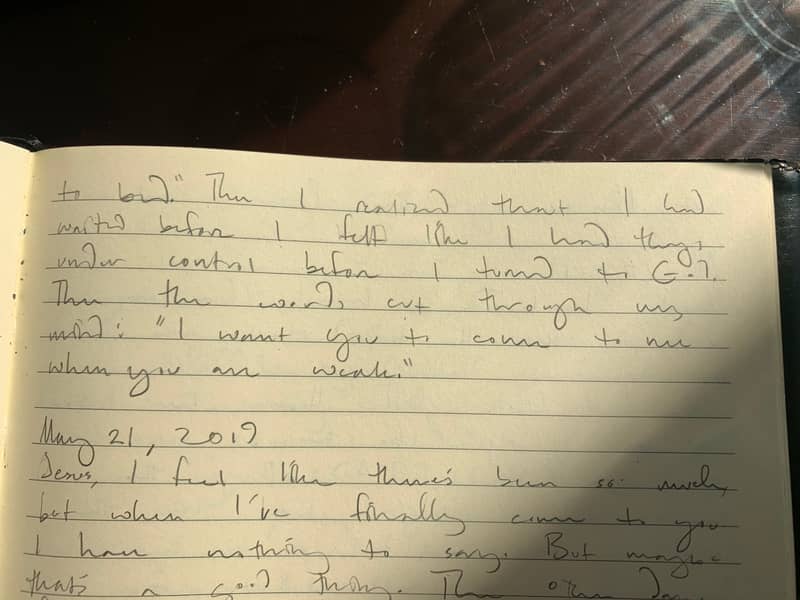 Read previous offerings
Journal entries written on hearts
"If you give me anything, let me love Jesus."
"I am your servant" — painting the Baptism of Christ
Help me to withhold nothing ("Teach me to be a great saint")
Ready to receive you (an Advent prayer)
"An intense desire." A longing to depart from this fallen world.
"Why are you afraid?" Isaac's final journal entry
"Moved to tears: the meaning behind Isaac's gravestone"
"The reward of distracted prayer" (November 27th)
"The end of all beauties" (November 21s
"Memento mori" (November 18th)
"Root out my sin" (November 15th)
"Let me suffer" (November 12th)

Why the title? About the Offerings of Isaac
Insight into a son through a Prayer Journal