This evening, I was planning what I wanted my schedule to look like for my senior year of high school. In terms of classes, I was hoping for six out of seven AP classes in addition to tons of extracurricular activities and projects. I calculated what my GPA would be and compared that to what my "competition's," or my rival peer's, GPA might be. Everything I wanted to do was good, but I began to ask how genuine it actually was. … I used to think I was holy. Going into 8th grade I thought about what a perfect kid I was. I would tell myself that my academic motivation was only a side thing. The Bible tells us that one cannot serve two masters. Right now I am serving one and that is myself. When can I find redemption?
Prayer Journal, June 2, 2015
If your will sometime in the future is for me to further my education, may your will be done and I will embrace it, but I only want to follow where God leads, no matter what the sacrifice. My God, help me to abandon my trust in myself and all my worldly desires. I come to you, O God, the God Shepherd. Embrace me, lead me unto you.
Prayer Journal, June 3, 2015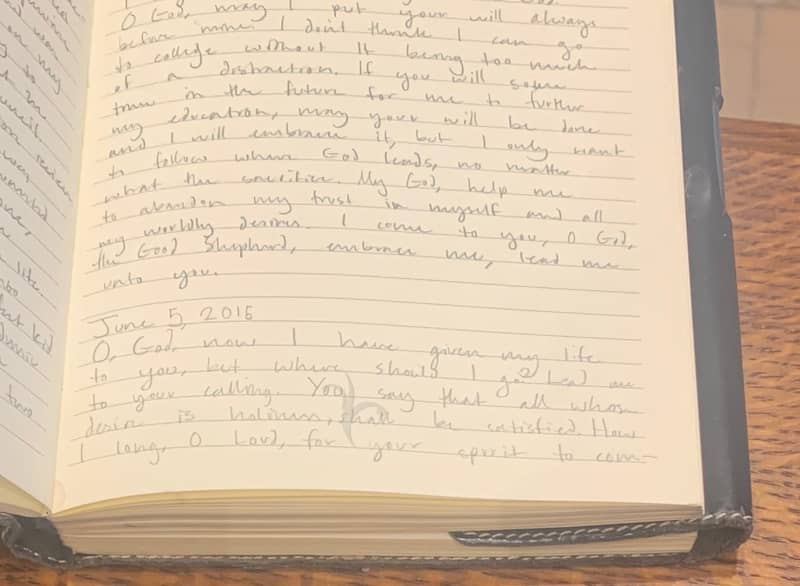 Read previous offerings
Journal entries written on hearts
"If you give me anything, let me love Jesus."
"I am your servant" — painting the Baptism of Christ
Help me to withhold nothing ("Teach me to be a great saint")
Ready to receive you (an Advent prayer)
"An intense desire." A longing to depart from this fallen world.
"Why are you afraid?" Isaac's final journal entry
"Moved to tears: the meaning behind Isaac's gravestone"
"The reward of distracted prayer" (November 27th)
"The end of all beauties" (November 21s
"Memento mori" (November 18th)
"Root out my sin" (November 15th)
"Let me suffer" (November 12th)

Why the title? About the Offerings of Isaac
Insight into a son through a Prayer Journal