I came to Cyprus to learn about art, but sitting in my hotel room the night of August 26, twelve weeks into my Dean Rusk trip, I wasn't thinking about art. I was thinking one thing: I never want to travel again. I was exhausted and lonely. The whole day I had been navigating crowded bus stations where no one knew my language under close deadlines which I barely met. It felt like it took a miracle to get me where I was, and worse, it would take another to get me where I wanted to be the next day. But how did I end up here?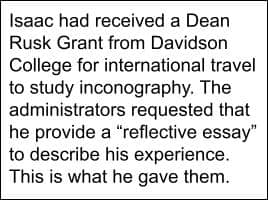 I have been drawing for as long as I can remember. As a child I remember feeling so empowered to able to reproduce my own vision of things that captured my imagination. I drew wolves running through a snowy forest and bleeding knights returning from battle. I was encouraged by my grandmother who was once an artist herself and as I grew older, found that if I decided to draw and apple or a tree, I was able to produce it just as I wanted. However, after a while I began to wonder why.I certainly enjoyed having this talent, but I didn't see it as having any purpose in my life. This was worsened when I went to high school where my teacher encouraged non-representational art. The summer before my freshman year I attended a week-long art intensive among juniors and seniors as my peers. My long-haired, amulet-clad teacher pushed me to tackle with amorphous shapes and colors questions such as "what effect do you want to have on the world." I tried hard at first but eventually I began to make just for the sake of making, hoping the question of what it meant wouldn't come up. It wore me down and before long I saw no future for myself with art.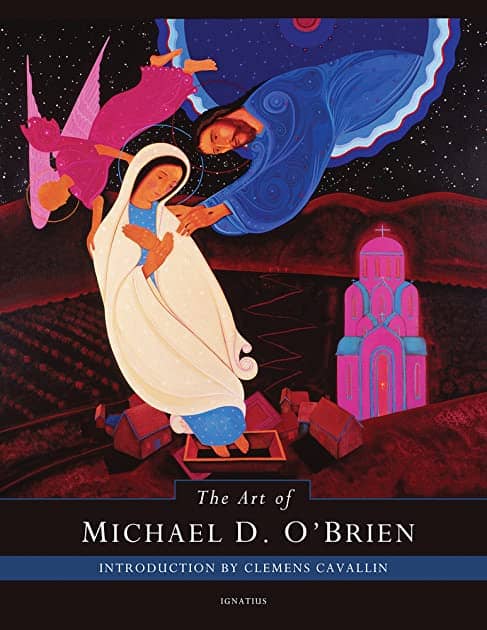 All of this changed one afternoon while I was reading a book by Michael O'Brien, a prominent Catholic author. While glancing through the front matter, I noticed that the cover art was attributed to the author. As I would later find out, Michael O'Brien had no formal training in art, and I wasn't too impressed by this one painting, but I decided to look into it. While looking through his paintings online and reading their descriptions, my casual interest was quickly transformed into awe. His paintings were rich in color and contrast and in addition to bearing the history of Christian art, they bore the weight of truth. This was the first time of many that I really recognized beauty in art and it brought me from the verge of giving up on art to barely being able to keep up with everything I wanted to make.I spent much of my childhood growing up in Baltimore city, but before my junior year of high school, my family moved thirty miles north to the countryside. Certainly, I knew what the countryside was like. I had driven through it countless times and my family was sure to make a day hike or go apple picking each fall, but living there was a completely different experience. In the mornings I could walk down a wooded ravine to a quiet stream behind my house to read where the birds and the eddies were the only noise, and in the evenings a short run or bike ride would take me to a vista where the sunset lit up the clouds over the hills. Again in awe, I tried to capture this beauty in art with clumsy landscapes as I tried oil paints for the first time.Once while at a staff meeting for the campus magazine Libertas, I was talking to another editor about the importance of honesty in art. "Sorry, art can lie," the editor-in-chief shut us down. In college my art took a different direction. I discovered the drawings of Georges Seurat. An old wearied woman rests her eyes in the dim evening light. I was awed by this portrait because although it is a portrait of a woman who lived halfway across the world, spoke a different language, and died in another century, I have experienced that same moment she is. Some of the paintings of Hieronymus Bosch are horrifying, violent, and ugly. But while living in Baltimore, a city with one of the highest violent crime rates in the country, I had only to look out on the streets to see these paintings. Yes, art can lie, but that's bad art. Even art that is ugly to look at can be beautiful because it expresses truth. I again returned to drawing from life, quiet scenes of light pouring over objects. In these moments where humans are paradoxically absent, I tried to approach the truth of human nature and a fallen world.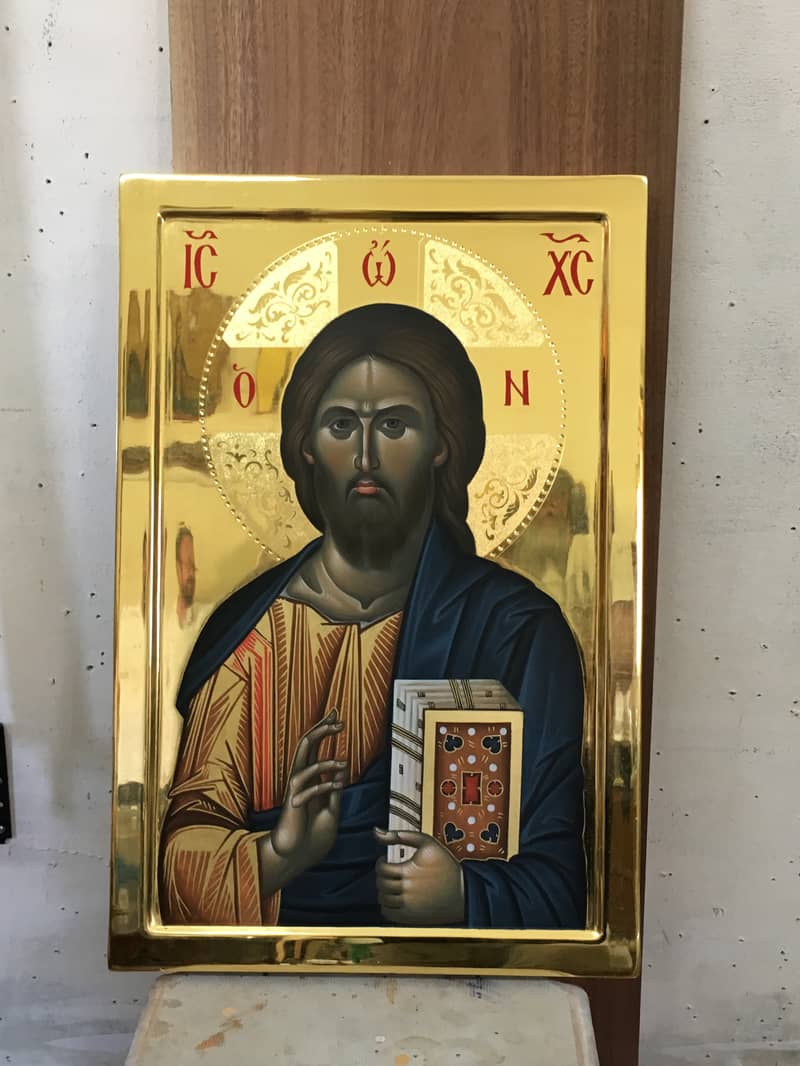 Finally, in the winter after my freshman year of college, I picked up a book on Byzantine iconography. Growing up the son of a priest, Byzantine icons were ever-present on the walls of our home. However, even after discovering the art of Michael O'Brien, which has heavy Byzantine influence, I didn't make the connection to my own art until then. The book talked about art in a way I hadn't heard before. It explained that in accordance with the purpose of humanity to imitate God, an artist imitates the Creator by use of his creativity to make something beautiful, just as all that God created was beautiful. As a Christian I always believed that the fullness of truth was God's revelation to man which through history reached it pinnacle in the Word Made Flesh, Jesus Christ. But what was it about these icons that so fascinated me with their beauty? To learn this secret was the lofty goal that brought me to Cyprus as an apprentice to an iconographer. On top of having done art for so long, trying new mediums and practices has always come pretty easily to me. Because of this, I was surprised by how hard it was to get things right when I first started training for iconography. One of the first iconographers I worked with, Markos, began teaching me in the same way he learned in Russia, starting by copying with pencil the hands and feet of paintings. To my continued frustration, after I worked for two hours perfecting a hand, he would always find a finger just too thin or the shape of the nail not quite right. I quickly found out how little I knew, and even by the time I left, felt like I had only scratched the surface of all there is to learn.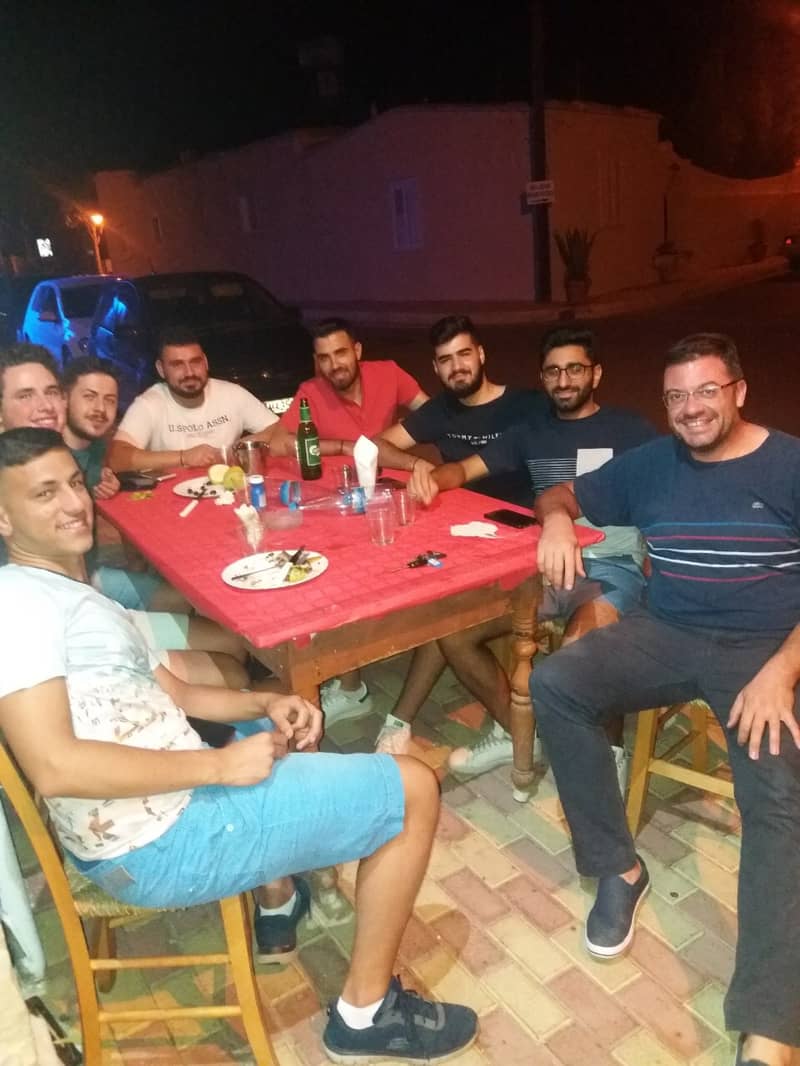 However, beyond just being an apprentice, I was living in Cyprus and became part of the community. Angelos, a long-time friend of the Davidson archeology project, and his wife, Orthodoxia, were especially hospitable to me. I often ate at their house or their parents' and Orthodoxia insisted on doing my laundry. When they were too busy to have me for lunch, Orthodoxia would even bring me a home-cooked meal. Angelos taught Byzantine music, so through him I was able to make friends my age who cared about a lot of the same things I did. I met some of his students for the first time at dinner and between their bad English and my bad Greek, they tried to determine why I was in Cyprus. "Agiographia," "No, he said archeologia," they debated before one asked directly, "You paint saints?" When I replied with the affirmative they cheered, "Pour the beer!"
I played blocks and drew pictures with Angelos and Orthodoxia's five-year-old daughter, Florendia, and got beyond the language barrier by exchanging the English and Greek words for objects around the house or out the car window. Angelos also baked the bread for consecration at the church, so often he would pick me up in the morning on his delivery runs where after taking a coffee and breakfast pastry we would talk for hours.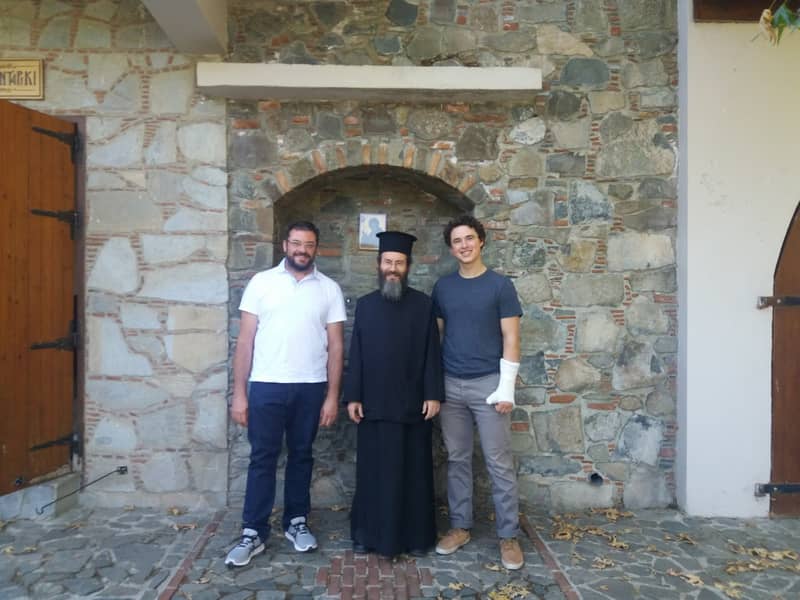 During the archeology dig I broke my wrist, and while it kept me from taking full advantage of Cyprus' beautiful beaches, it was an unexpected blessing one night coming back from a day of research in Nicosia, a neighboring city. After a bus mix-up I found myself on deserted back roads ten miles from home. The only way back was on foot, so I set out, hoping to make it back by 1 am. However, after walking for about a mile, a local priest who I would later visit a monastery with, Fr. Theodoulos, recognizing me by the cast on my arm, turned around to drive me the rest of the way back.

Ever since my family converted to Catholicism eleven years ago, I have held Church doctrine unquestioningly as truth. This hasn't changed, but after immersing myself so thoroughly in Cypriot life, which is inseparable from their Orthodox faith, I finally understood what Saint Pope John Paul II meant when he said that the Catholic Church, separated from this other side of Christianity, was breathing with only one lung. Beyond just participating in family life with Angelos and Orthodoxia, I accompanied them to church almost every day and on pilgrimages to monasteries across Cyprus. One of the things that struck me most was how they fasted. The Orthodox fast is abstaining form meat, dairy, eggs, and oil on Fridays and Wednesdays in addition to a 15 day fast at the beginning of August. Instead of the low mood I might've expect on those days, the Cypriots were even more joyful.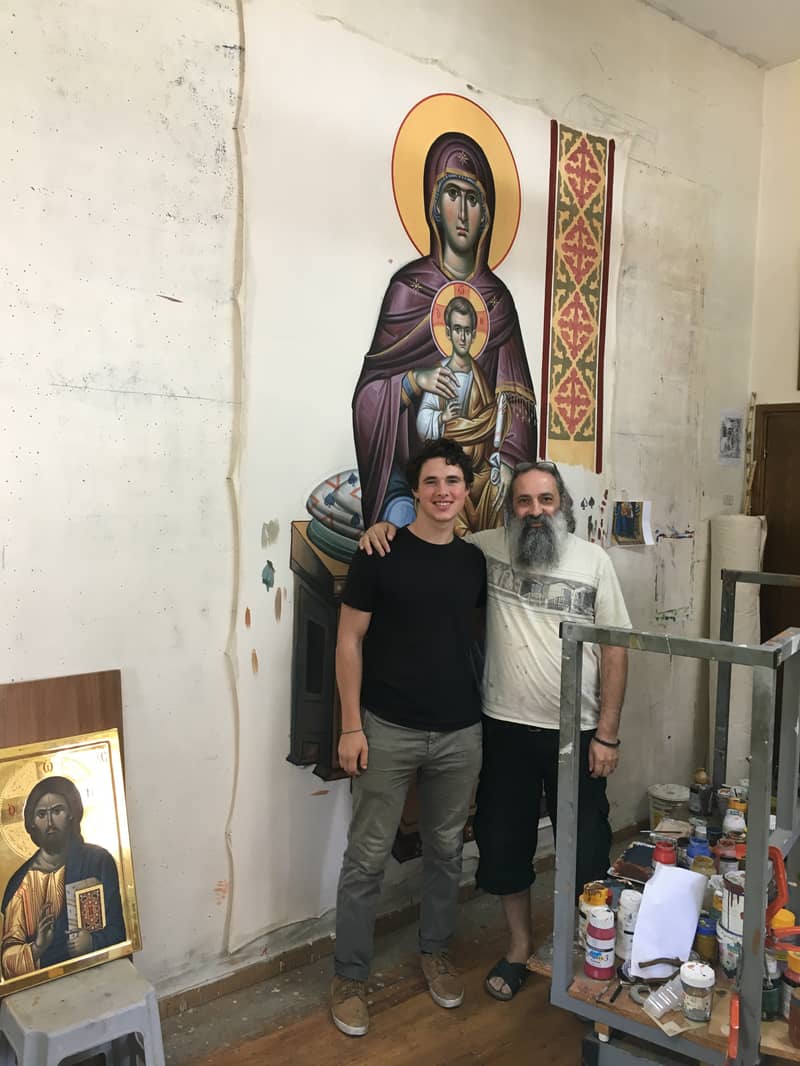 Adamos Adamou, one of the iconographers I worked with, explained to me that there are two words for love in Greek. Agape, brotherly love, and erotas, love between a man and a woman. Erotasis also the word used to describe the love between God and humanity. However, erotasdoes not have the negative, animalistic connotations its English counterparts do. Rather, it is self-sacrificial. "When you love a woman," Adamos explained, "You're willing to do anything for her." Similarly, when done out of love, fasting is not a burden but a joy. I could only think how hard it was for me to keep the simple Catholic fast of no meat on Fridays.
Another thing that amazed me was how open they were to miracles. For example, every week Angelos bakes the bread for consecration at church. But instead of yeast, they used a natural culture called prozimi. Normally this culture has little effect on the dough, but only when the bread is made with holy water it rises as if with yeast.
I would go straight from my Dean Rusk summer trip to studying abroad in Florence, but before that, Angelos arranged for me to stay for a week at Vatopedi, a thousand-year-old monastery only reachable by boat on Mount Athos, Greece. While the demands of family life prohibited Angelos from going with me as he had hoped, he worked, as many things are done in Cyprus, through a family connection to secure a ferry to bring me there. However, when It was time for me to leave, all the details hadn't been worked out. He told me to call him when I got to Ouranopolis, the little coastal town where I would stay the night before taking a ferry the next morning. When I finally arrived in my hotel that night, I was tired but looking forward to having someone expecting me at the monastery the next night. However, my exhaustion slowly sank into despair when I couldn't get a hold of Angelos. Without his help, I had no idea how to get to where I needed to be. After repeated efforts I was ready to give up and fall asleep, when finally, he called me back, but to my dismay, bearing bad news. To his surprise, all the ferries were full. He recommended finding an early morning bus to a neighboring town were the ferries were also full, in hopes that someone wouldn't show up. Oh, and in this other town I also had to find a building which would give me some paperwork, essentially my permission to go to the mountain. "Just ask someone where to find it," he recommended, as if it were that simple. "I'm sure Holy Mary will get you there," were his last words to me, but I went to bed that night not knowing where I'd sleep the next or what to do in the morning."
Are you here waiting for the bus," as asked a weathered old man on the bench next to me, hoping to verify I was in the right place. The sun was just beginning to rise over the water and I'd fast-walked about a mile to where I'd hoped the bus would pick me up. In response, I got more than I'd hoped for. The man knew perfect English and asked me where I was trying to go. He said it would be useless to go to the other town but showed me where to find my paperwork and where to find a ferry with open spots. I have no idea why he was waiting there so early in the morning, but by two in the afternoon I was watching dolphins leaping in and out of the Mediterranean on the open deck of a ferry heading for Mount Athos. In the first sermon I heard at Vatopedi the priest said, "Everyone thinks they come to the monastery on their own volition, but really it is Holy Mary who brings you here." 
My first evening at Vatopedi there was a night liturgy for the feast of the Assumption of Mary, a church service that would last until the wee hours of the morning. [Note: This was the eve of August 28th–the final Liturgy of a two-week celebration that began on August 15th.] In preparation I was having coffee with another American pilgrim named Sam. Early in our conversation a monk came out and said something to us in Greek. We stared blankly, so he asked, "Do you speak Greek?"
"Ligo," (a little) Sam responded."
Well, I speak too much Greek," the monk laughed and went away.
Sam and I shrugged and returned to our conversation. He was a former Catholic but had converted to Orthodoxy five years ago because, he told me, he studied art history and theology. The Orthodox Church, he explained, cares about beauty. Humans have five senses and they should be filled as best as possible. You have a nose, so beautiful-smelling incense; you have ears, so beautiful chant; you have eyes, so beautiful icons and gold. In this way the church is very human. In heaven we will see perfect beauty so our souls long for beauty as they long for God, and the beauty of the Divine Liturgy lifts up our hearts to him. The whole monastery, Sam explained, is designed with this in mind, from the marble and bronze drinking fountains throughout, to the very steps we were sitting on, which, overlooking the ancient buildings and the landscape beyond, were perfect for sitting and sipping a coffee. Indeed, beauty fills the senses at Vatopedi. The ancient but colorful buildings are surrounded by mountains cascading into the Mediterranean Sea, and at night, the milky way spills across the sky. 
The monk came back and stood in front of us."
You didn't get my message," he asked in perfect English."
No, what message," I answered."
It is not time to talk. Don't separate yourselves from the brothers. Come, it's time to celebrate Holy Mary." In Orthodox churches it is not uncommon for people to arrive at Divine Liturgy even in the last half hour before the end of a two-hour service, but the night liturgy had started about a half hour before, so as the first stars appeared in the twilight, we followed the monk down a slope of trees and buildings to the cathedral. Although I had been to countless Orthodox liturgies before, what I was to encounter overwhelmed me. 
The church was dark, but the light of hundreds of candles made the gold-filled interior sparkle. The chant was low and solemn but filled with joy. I could make out only a few words but had only to look at the frescoes on the walls to see the story of my salvation, reaching its apex in the embrace of the arms of Jesus stretched out on the crucifix. The service lasted for hours and into the morning, but I never got bored. 
It is hard to articulate exactly what I learned during my time in Cyprus, except for maybe how little I know, but I look to where it will lead me in future and how it will continue to affect me for years to come.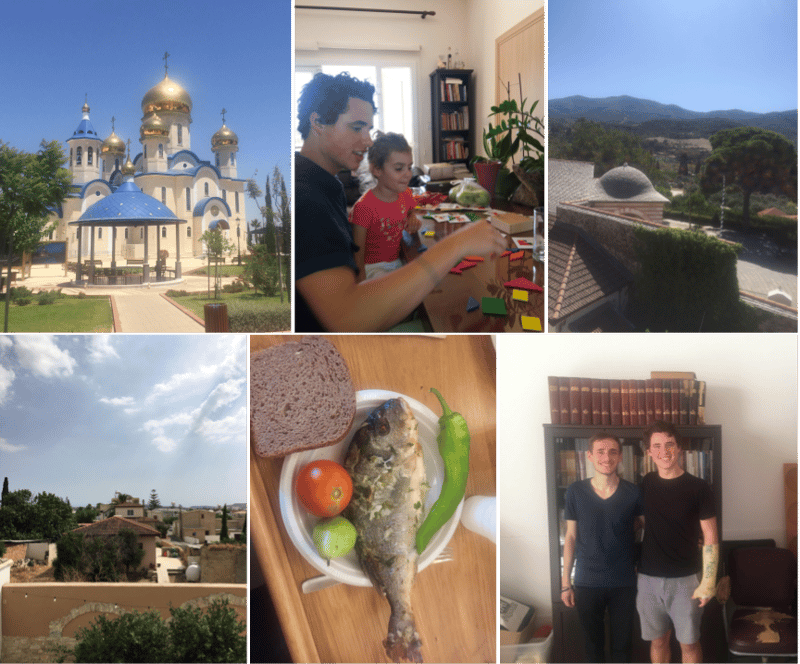 Clockwise from l. to r.: A Russian Orthodox Church in Cyprus; language learning with Florendia; a view from Vatopedi (before he learned photos weren't allowed); with iconographer Marcos; a meal at Vatopedi; view from a hostel window.
This essay was sent to me just last week, when I read it for the first time. The "years to come" that Isaac said he would be affected by these travels are passed on to us.
Read previous offerings
The permanence of God's beauty
Journal entries written on hearts
"If you give me anything, let me love Jesus."
"I am your servant" — painting the Baptism of Christ
Help me to withhold nothing ("Teach me to be a great saint")
Ready to receive you (an Advent prayer)
"An intense desire." A longing to depart from this fallen world.
"Why are you afraid?" Isaac's final journal entry
"Moved to tears: the meaning behind Isaac's gravestone"
"The reward of distracted prayer" (November 27th)
"The end of all beauties" (November 21s
"Memento mori" (November 18th)
"Root out my sin" (November 15th)
"Let me suffer" (November 12th)

Why the title? About the Offerings of Isaac
Insight into a son through a Prayer Journal