Shortly before their first child was to arrive, Michael O'Brien and his wife decided that Michael should take the risk of becoming a full-time Christian artist. With this decision they went to Mass and Michael placed his brushes under the altar and he and Sheila consecrated their whole lives and marriage to the service of God. As I enter into my Junior Capstone class in the spring, I think I should spend a vigil night before the Blessed Sacrament, like a knight would make the day before his knighting, asking for the grace of God for the battle ahead. I don't know what art I can possibly make that will glorify God as I want to, but I will trust in the gift of the Holy Spirit, the giver of all good inspirations. I will pray as Michael did that I would not pursue success, approval, self-approval by the world's standards, or even security, but that my one and only purpose and goal would be to serve God in whatever he asks, trusting that He will provide.
Art Notebook, 12/29/2019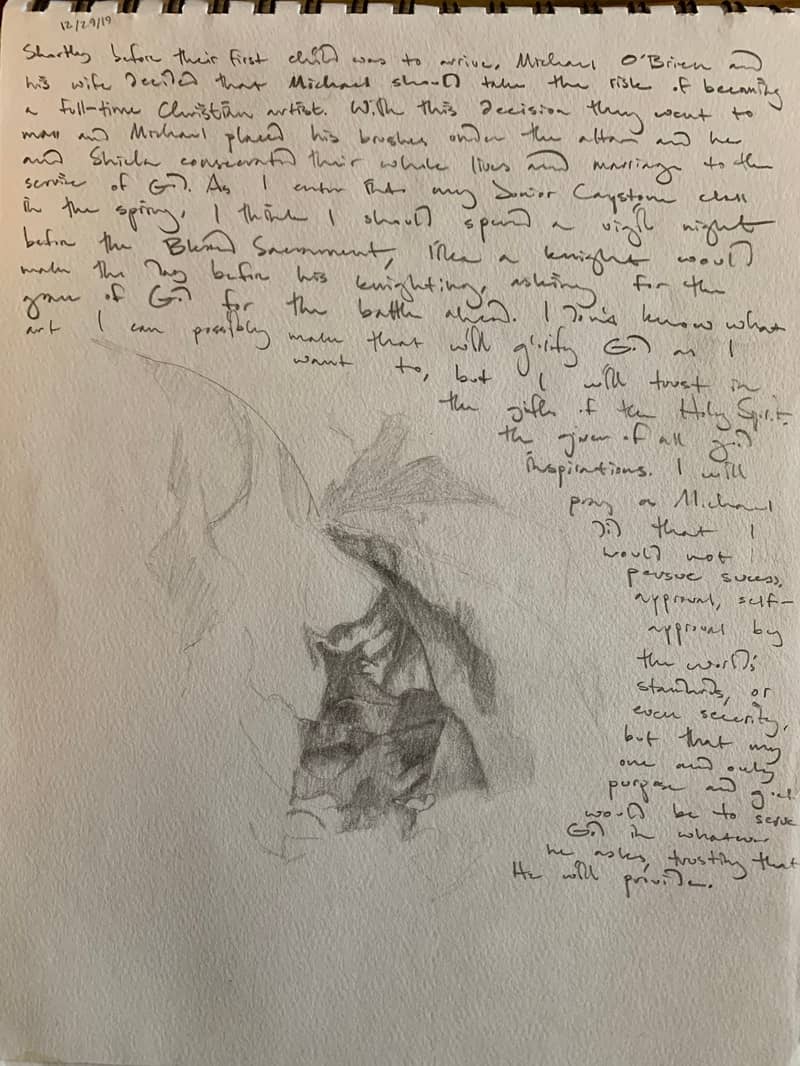 Read previous offerings
What could approach Iconography?
Peace that is not of this world
The permanence of God's beauty
Journal entries written on hearts
"If you give me anything, let me love Jesus."
"I am your servant" — painting the Baptism of Christ
Help me to withhold nothing ("Teach me to be a great saint")
Ready to receive you (an Advent prayer)
"An intense desire." A longing to depart from this fallen world.
"Why are you afraid?" Isaac's final journal entry
"Moved to tears: the meaning behind Isaac's gravestone"
"The reward of distracted prayer" (November 27th)
"The end of all beauties" (November 21s

"Memento mori" (November 18th)
"Root out my sin" (November 15th)
"Let me suffer" (November 12th)

Why the title? About the Offerings of Isaac
Insight into a son through a Prayer Journal