O God give me fearlessness to proclaim your Word.
And give me an angel of inspiration so that I might be fearless on behalf
of my work as a proclamation of you.
_________________________________
"Let my eyes run down with tears night and day, and let them not cease, for the virgin daughter of my people is smitten with a great wound, with a very grievous blow."
from Jeremiah 14
– Art Notebook, 2/2020
I suppose the above prayer was written just before sleep. The addition "written in dark" and the quote from Jeremiah were in a neater script–perhaps added the next morning. This follows his previous notebook entry about allowing no compromise in his art. What will follow in the next entry are his unbridled thoughts about why he paints drapery.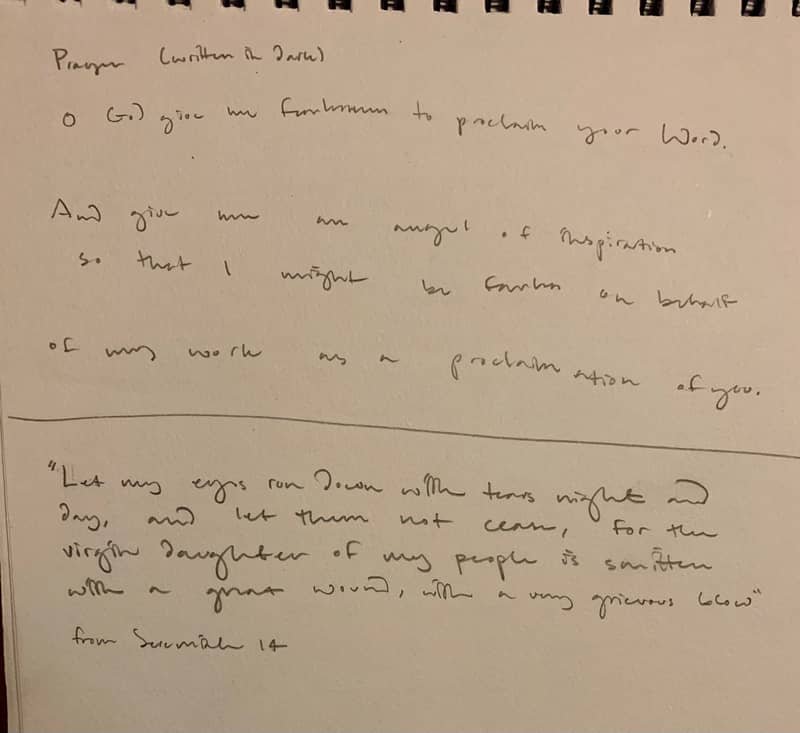 Read previous offerings
What could approach Iconography?
Peace that is not of this world
The permanence of God's beauty
Journal entries written on hearts
"If you give me anything, let me love Jesus."
"I am your servant" — painting the Baptism of Christ
Help me to withhold nothing ("Teach me to be a great saint")
Ready to receive you (an Advent prayer)
"An intense desire." A longing to depart from this fallen world.
"Why are you afraid?" Isaac's final journal entry
"Moved to tears: the meaning behind Isaac's gravestone"
"The reward of distracted prayer" (November 27th)
"The end of all beauties" (November 21s

"Memento mori" (November 18th)
"Root out my sin" (November 15th)
"Let me suffer" (November 12th)

Why the title? About the Offerings of Isaac
Insight into a son through a Prayer Journal